Types of Apparel Applications
When it comes to apparel there are a few options to choose from to apply your design to the items you select depending on the type of fabric and your budget. Screen printing, heat press, or embroidery. 
Screen printing is a multi-step process. This method provides a long-lasting and durable print and more vibrant color than other processes. 
Once your design is finalized we print it on a transparency film. The film is used to transfer the design image to a large screen with a chemical process using a photo sensitive emulsion. If your design requires multiple colors a screen is made for each color. 

Next the prepared screens are set up on a carousel for printing. Each garment is individually aligned on the carousel. The screen is then lowered and the desired ink is squeegeed across the screen pressing the ink through the screen. Multi-color designs are flash dried between each color application.

When the full design has been inked the garment is removed from the carousel and run through a large dryer to cure the ink.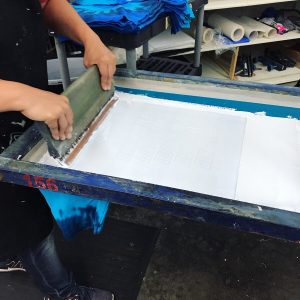 Heat pressing the design to a garment is a more affordable option for a small quantity order because it has minimal setup time and is a more efficient process. Your design is printed and cut from vinyl cloth. The large heat press is then used to adhere the design to the garment with heat and pressure.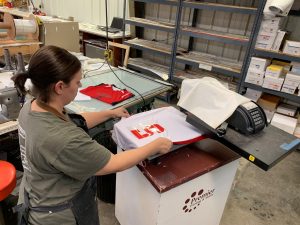 Embroidery uses thread to sew your logo or design onto a garment and provides a more refined look. This process is ideal for small designs. However, it can be done in a variety of sizes. Pricing will vary depending on the size. This method exudes professionalism and has a long-lasting wear. While most commonly used on apparel or hats, embroidery can also be done on bags, towels and many other items.