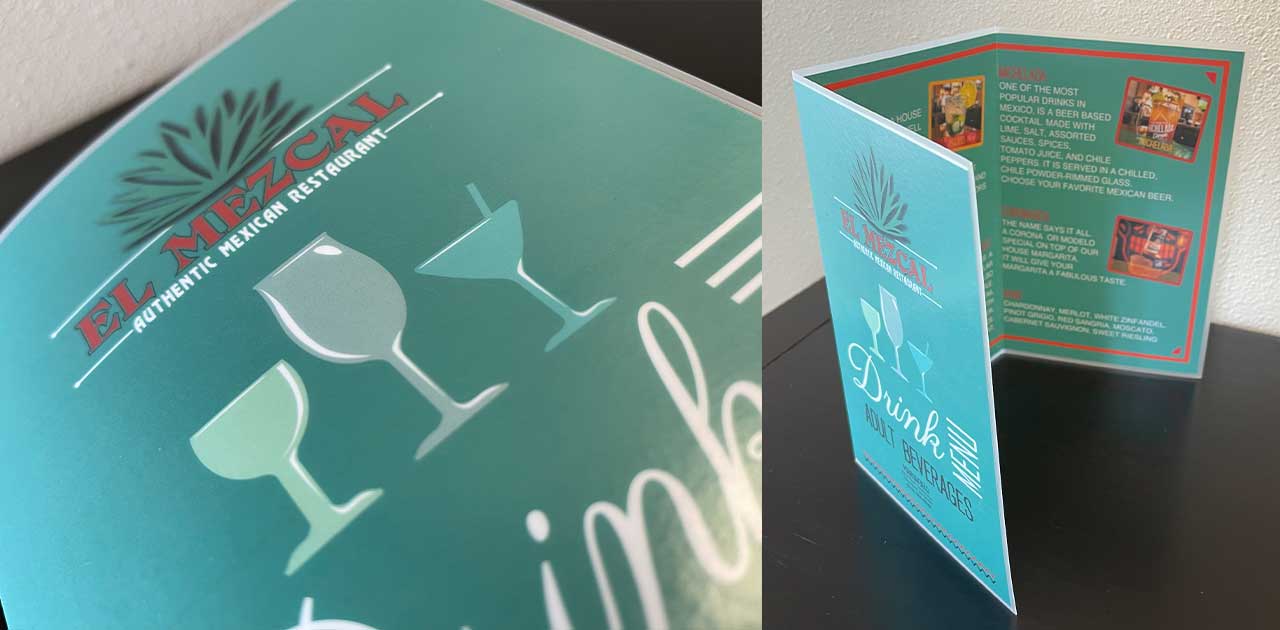 If you need new or upgraded menus for your restaurant or other styles of pamphlets or informational pieces, we've got you covered!
We recently completed drink or "adult beverage" menus for local restaurant El Mezcal and we're really excited with how they turned out.
The traditional practice of creating binded, spiraled or stapled menus doesn't work for everyone, especially in the COVID age. Lamination can be damaged as the bindings are flexed, washed or even just handled over time. If water gets under lamination, it doesn't take long before the paper or informational part of the menu is distorted and ruined.
We seal the edges of our products during the lamination process and prefer not to use binding to avoid getting moisture under the laminate.
Tri-fold menus work great for smaller items like drinks, appetizers or specials as they can stand up on their own on a table or bar area. They also have six sides or pages with plenty of space for your items and information.
Large, one-sheet menus also work well when you want to include main courses, drinks, appetizers, desserts and anything in-between.
Menus are available in gloss or matte laminate finishes. The gloss finish gives the menus more of a shine while the matte finish is less reflective which helps keep light from making the images harder to see or read.
The QR Code is an awesome addition to any menu. Using a QR Code to lead people to an online menu is an easy and cost-effective way to communicate to your customers.
Contact [email protected] to get started on your menus today!